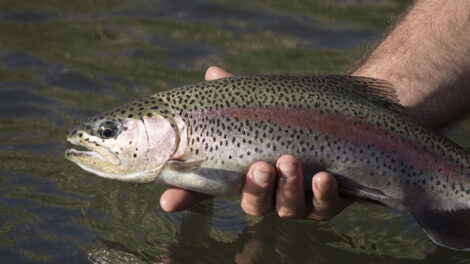 Every once in a while someone comes up to me and asks, "What exactly does the Trout Bus do?" A fair question. I have tried to explain it in various ways, but it seems that coming up with a single sentence would read something like this: "The Trout Bus tries to be like Johnny Appleseed by seeding fun and collaboration within the conservation, education, and trout fishing communities."
Traveling around planting seeds to introduce people to the processes of service to their community. Their opinions and expertise can provide a brighter future for the special places trout live. Networking with agencies, groups, and individuals in my travels with hope to bring a brighter future for the trout in these beautiful areas.
"Well, that doesn't pay the bills does it?" they say. To be totally honest and transparent – it doesn't. I often find myself in negative balance throughout the year, and struggle to find a space where what I do brings value to the organizations and businesses which I support and who support me.. To that end I spend a lot of time behind a keyboard managing different websites, freelancing my graphics, photography, and video skills to make ends meet.
The seeds I plant bear fruit nearly everywhere I go, and like Johnny Appleseed I must revisit these locations from time to time for a little checkup, a little weeding, and even a little extra nutrients to help them grow. More often than not, the people who I have touched are doing great and the tree is growing well, and that fills my soul. The time that is required to have a sustainable forest of friends is not unlike a true forest –  patience is the paramount focus. What I try to do is influence the long term goals, while maintaining my realities of today.
The images I capture and the stories they tell, the people I meet and the stories I hear, feed the forest of my heart. I found that it is my heart which sustains me, and the forest of people I have met who have touched it – unknowingly to them.
So when you ask, "How can I help?" my response will often be, "With which part of what I am doing, or which of the variety of programs I have some knowledge of?"
There are many groups and organizations that benefit through your support. There are even a few I have helped to create via your support. The gallery below is from the Instagram account I use. I hope the images you see help explain why I do what I do. I still have a hard time explaining "Why" I do what I do, so once I figure that out I will let you all know.